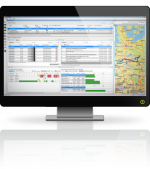 Halléns Transport & Logistics AB's main business is transport and handling of bulk loads and containers both domestic, within Scandinavia, but also internationally. We can also offer sideloader-, ADR- and special transports. In addition, we have, among others, specialized in lining of containers (bag-in-box containers) and have equipment for silo evacuation (in case of accidents, breakdowns of bulk devices etc.)
To assist us, we have a modern vehicle management system where our traffic control can monitor all our equipment (both trucks, trailers and a number of containers) in real time. In the trucks we have on-board computers where our drivers have access to GPS, own fuel and vehicle monitoring (eco-driving) and bi-directional communication via text messages with our traffic control.

The system also allows us to monitor operating costs, road safety related issues, driving- and rest times and better opportunities to minimize waiting times and unnecessary mileage.
Halléns Transport & Logistics AB has more than 100 different chassis, all designed for different types of loads and most are ADR approved. We have:
Sideloaders
Tipping chassis with and without rotary valve
Link chassis
Tank vehicles
Mega chassis, SDU (Self Delivering Units which has its own compressor, hydraulic and motor)
Etc.
Some more pictures of our vehicles, chassis and special equipment: